LATEST NEWS
Youth Sport Trust award for PE Department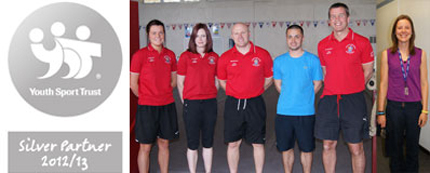 Collegiate PE Faculty is delighted to have been awarded the Youth Sport Trust Silver award for PE and Sport. This award, from the national body responsible for developing school sport, is achieved by showing the impact that the PE faculty staff have made with their pupils in terms of attainment and also in terms of using PE and sport to raise achievement across the school.
The PE Faculty believes in the power that participating in PE and sport has on a person, not only for the health benefits, but also in developing leadership skills, improving their behaviour and creating a possible lifelong pathway for them to play sport and develop their skills too. The PE staff have worked extremely hard to provide opportunities for our pupils and includes Mr Lavelle, Mr Ryder, Mrs Wilkes, Miss Mountjoy, Miss Royds and Mr Errington.
Former student killed in Afghanistan

Former Collegiate student, Fusilier Samuel Flint, was one of three British soldiers to have died after their armoured vehicle was hit by a roadside bomb in Helmand, Afghanistan.
Samuel, who was part of the Royal Highland Fusiliers, the 2nd Battalion The Royal Regiment of Scotland, was travelling on a routine patrol in the district of Nahr-e Saraj.
Staff at Collegiate were saddened to hear the news and our thoughts go out to Samuel's family.
Collegiate Film Club
Where?.....in the Lecture Theatre
When?.....every Tuesday
Time?.....3pm until 5pm
Please let your parents know that the Film Club finishes at 5pm.
Films screenings for May 2013
7th May - The Princess Diaries
14th May - The Hobbit: An Unexpected Journey
21st May - ParaNorman
Academy documents available to view online
All letters and policies that have been previously published regarding the proposed merger and new academy are now available to read in one place here on our website.
They can also be found by clicking on the School menu above and selecting Academy documents from the dropdown menu.
GCSEPod relaunched on Collegiate website
GCSEPod now has its own area on our website. The link can be found above in the dropdown menu under Learning.
The website has over 2,500 GCSE specific podcasts covering 15 subjects which you can watch online or download to your Apple, Blackberry or Android device and watch anywhere. GCSEPod is FREE OF CHARGE to all Collegiate High School students and staff.
So click on the advert on the left, or via the dropdown menu above, and start enjoying this brilliant resource.
Exams
A new Exams page has been added to our website.
Here you can find all the information you need for future exams, with dates, locations, times, etc., being displayed..
You will find it in the dropdown menu under Students above.
Former student passes away
After a short illness Joyce Birtwhistle died in hospital on Friday 8th March 2013 aged 91 years. Joyce was a former student of Collegiate High School for Girls when it was located on Beech Avenue.
She became a member of the Old Girls Association and throughout the years was elected to various official positions; President of the Old Girls Association, President of the Old Students, Chairman of Old Girls. Joyce was also a Trustee of the School and her commitment and dedication was second to none.She enjoyed meeting with students and hearing about their achievements and through Joyce the Trustees gave financial support to many students and to the School itself.
She was a great supporter of the School and enjoyed attending Achievement Evenings, School Productions and the Carol Service. She will be sadly missed by all at Collegiate.
Collegiate's got talent!
Collegiate's Got Talent is on Wednesday, March 27th. Doors open at 18:30 for a 19:00 start. Tickets can be purchased from school - only £1!
Prize draw with entry ticket - first prize is a 16GB iPod touch.
Raffle and refreshments can be purchased during the interval.
Come along and see Collegiate's talent.
Change of date for Sports Day
Due to circumstances beyond our control Collegiate High School's Sports Day will now take place on Wednesday, 3rd July, 2013, at the Stanley Park Athletics Arena.
Parent View
Parent View is part of the Ofsted website and allows parents the chance to say what they think about their child's school. Parents can give their views on various aspects of school, from the quality of teaching, to dealing with bullying and poor behaviour. By sharing views, it will help schools to improve. It will also be possible to see what other parents have said about your child's school. Or, if you want to, view the results for any school in England.
Parent View is an on-line questionnaire and is the main source for gathering parents' and carers' views about a school when it is inspected. When parents and carers are notified of the school's inspection, they have an opportunity to contribute their views through a short set of questions. Parent View also gives parents and carers the chance to tell Ofsted about their child's school at any other time.
Parent View is available online at: parentview.ofsted.gov.uk.
The toolkit, leaflet and video are available here.
FAQs for Parent View are available here.
Food Survey
Students have recently been emailed a questiionnaire regarding the school food service here at Collegiate High School.
We would also like all parents to complete a similar questionnaire, which can be found here.
It is hoped that the combined answers provided by both surveys will give us an insight into what we are doing well, and where we can make improvements.
Local Offer Parent Voice Event at the Winter Gardens, Friday 19th April.
Blackpool Council are to hold a Local Offer Parent Voice Event at the Winter Gardens on Friday, 19th April, from 10.00am until 2.15pm. The event will allow families of children and young people with Special Educational Needs and Disabilities (SEND) the opportunity to share thoughts and experiences with other parents and professionals, and to discuss what information, educational and training provisions are available - known as Blackpool Coucil's 'Local Offer'.
For more information please read the brochure. Should you wish to attend the event please fill in the expression of interest form and return before 11th March.
Collegiate High School Appeals Timetable
By 2nd April 2013
Appeal forms to be received by the Independent School Appeal Team, Legal and Democratic Services, PO Box 1066, Town Hall, Blackpool, FY1 1GB, in order for the appeals to be heard in the first round of hearings. Appeal forms can be submitted after this deadline but the hearing will not be held until later in the year.
By 21st May 2013
Any additional documents that parents/carers wish to provide (i.e. medical evidence) should be sent to Legal and Democratic Services.
End of May 2013
Notification of appeal hearings will be sent to parents/carers.
Early June 2013
Appeals that have been submitted by 2nd April 2013 will be heard by Independent Appeals Panels.
Newsletter section of our website now up and running!
The Collegiate High School newsletter is now available to read on our website. Produced quarterly, it's full of all the news and what's happening in and around your school.
You can find the link on the home page in the Newsletter box, or in the drop-down menu under Staff, Parents, or Students.
If you wish to contribute an article or have some news you wish to share with the rest of the school and community submit it to Mr Sheldon or Mr Birkett for inclusion.
A guide to academies
Blackpool Governor Services has produced a publication which aims to answer some of the more common questions parents may have regarding academies.
The publication is now available to view here and can also be found on the Policies/Letters page under the Parents menu above.
The Department for Education regularly update their website with all the latest news and information on academies.
Go to www.education.gov.uk/search/results?q=academies for more information.
Book Fair
The Book Fair is coming to the library from 6th February until 12th February 2013!
Books will be on sale during registration, break, lunch, and after school - bring your parents along after school, so they may take a look at the books on offer.
You can purchase books with cash or spend your vivo rewards.
Collegiate staff verses St Mary's staff football match
Congratulations to Collegiate staff for beating St Mary's staff 7-6 in a closely fought 8-a-side football match after school on Friday.
Severe weather conditions made the pitch treacherous under foot, with both teams trying to play free-flowing football in the snow. Collegiate's man of the match, Mr Errington, somehow managed to perform many dazzling runs, while those around him were concentrating on staying upright. After an hour of intense play with the scores locked at 6-6, Mr Sheldon managed to grab the winner with a low drive into the bottom left, drawing to a close an enjoyable encounter.
Collegiate team: Mr Kelly, Mr Errington, Miss Mountjoy, Mr Sheldon, Mr Merrick, Mr Barnhurst, Miss Roydes, Mr Gillibrand, and Mr Newsham.
Consultation on proposed merger
We would like to inform our School Colleagues, Stakeholders, and the wider community that, after careful consideration, the Governing Bodies of Collegiate High School and Bispham High School have decided to go out to consultation on the proposal:
to merge Bispham High School and Collegiate High School and convert to becoming one single sponsored academy.
If approved, the single sponsored academy would be operational during the academic year 2013/14.
As part of the decision making process, and before any final decision is taken, the Governing Bodies of both schools are committed to full consultation with Stakeholders, and the wider community, to consider their views.
The consultation process will run for from Monday 14th January, 2013 until Friday 22nd February, 2013.
Please click here for further information from the Chair of Governors at Collegiate High School, with details of planned, open consultation meetings which you are most welcome to attend; and, details of how you can raise any comments or views that you may have about the proposal.
Kind Regards
Dayle Harrison
Acting Headteacher
Collegiate High School.
Frequently Asked Questions regarding proposed merger between Collegiate High School and Bispham High School
In light of the recent consultation our FAQs are being updated and will be published here as soon as possible.
Changes to local bus times
Due to major bridge works in Poulton which will affect traffic conditions around Carleton, Poulton and Amounderness Way, Blackpool Transport have made some changes to the timetables to help with reliability on bus services 2/2C, 14, and 16.
You can download all the relevant information here:
For more information please contact Blackpool Transport on 01253 473001 or visit their website at www.blackpooltransport.com.
Parent's Coffee Morning
We are going to hold another parent's coffee morning, here at Collegiate High School, on Friday 25th January from 9.00am until 10.15am. Mr Harrison will be on hand to serve refreshments with a friendly smile, and available to answer any questions you may want to ask.
Please call the school if you would like any further information.
January 2013 Exam Timetable
The January 2013 exam timetable is now available to view here.
Anne Frank Exhibition
The Anne Frank Trust UK are visiting school next week to install an exhibition which details life in Nazi Germany including the story of Anne Frank, the rise of Hilter and the Holocaust. The exhibition will be in school from Monday 3rd to Friday 7th December and all students in school will be able to visit the exhbition, whether they study History or not.
Some students in school have been trained as guides by the Anne Frank Trust and will be able to lead staff and students around the exhibition next week.
Photo Gallery now online
We are pleased to announce that our photo gallery is now up and running here on the website, and the latest photo collections are from our Achievement Evening on 14th November 2012, and the half term trip to Alton Towers.
Our Year 11 Achievement Evening was a great success with many previous students attending this special occasion, alongside specially invited guests, Paralympian Shelly Woods, and Deputy Mayor of Blackpool, Councillor John Boughton and his wife Jaki. Students received awards based on their effort and positive contribution in their subjects, and general conduct around and about school.
The evening highlighted the outstanding work that the Year 11 students have produced during their time here at Collegiate, and these occasions are a great opportunity to bring, students, parents, and teachers together to celebrate their success.
We would like to wish our previous Year 11 students all the best for the future and keep up the good work!
During half term 100 students went to Alton towers for an attendance rewards trip.
They had attended every school day from September up to half term and spent a full day enjoying the rides at the theme park. Our next attendance reward will be a cinema trip soon after Christmas, so turn up every day to be able to go!
Service of Remembrance
Remembrance Sunday was originally conceived as a commemoration of the war dead of the First World War, but after the Second World War it was extended to focus on the nation's dead of both World Wars. Since then it has broadened to honour and remember all who have suffered and died in conflict in the service of their country, and all those who mourn them.
On Friday 9th November we held our Service of Remembrance to honour those service men and women who gave their lives for the peace and freedom we enjoy today. The staff and students were joined by specially invited guests, Collegiate Old Girls Association, Sixth Form Senior Students, and Trustees, to listen to readings, songs by our choir, and a prayer; afterwards our guests lay wreaths on our memorial.
Year 7 students were given the task to each research a fallen soldier and their name placed upon a single poppy. These were held throughout the service, and then scattered amongst the wreaths.
11th November
Remembrance Sunday is nearly here, and the poppy boxes have already arrived in school. Collegiate High School currently has a number of ex-students serving out in Afghanistan:
Jamie McGurk is currently on board a minesweeper in the Gulf
Sheree Taylor's husband is in a patrol base in Helmund
Adam Dennehy returned home earlier this month safely after 7 months in Helmund
Andrew Nickson, Management Information System Manager here at Collegiate, is Flight Lieutenant Squadron Commander of 177 Blackpool Airport Squadron Air Training Corps. For the last five years Andrew and his cadets have been working with the UK Forces Support charity, helping the Support our Soldiers Appeal to send 'care boxes' out to Afghanistan for Christmas - last year they sent out 350 boxes to our troops.
If you would like to help by donating items to the care boxes you can contact Andrew at school, or visit www.ukforcessupport.co.uk/ for further information.
Andrew and his cadets are pictured with Mark Menzies MP (St Annes and Fylde).
Open Evening Report
Collegiate High School enjoyed an extremely successful and exciting year with the achievement of 51% 5+ A*-C exam passes including English and maths at GCSE level, one of the most improved schools in the North West.
We at Collegiate realise that moving from Primary to Secondary school is a big step, which can seem very daunting to some of our young people. Our Open Evening enables Year 6 students and their parents, or carers, to get a feel for our school community, helping them reach a decision about their next step. This year's Open Evening was very well attended and visitors were greeted by the Head Boy and Head Girl, our team of prefects, and longstanding members of staff, some of whom were remembered by visiting parents!
The evening began with a demonstration of Street Dance by Urban Dance Project, who are members of Blackpool Gymnastics Club which is based at the school. This was followed by a welcome speech by Head Boy and Head Girl, Jake and Joanna, who then introduced Headteacher, Dayle Harrison. Mr Harrison presented a short video which provided a flavour of our school life, followed by a short speech in which he highlighted not only our impressive results and progression, but the sense of community we have here at Collegiate. The formalities were completed with a brief speech by former student and now Pastoral Manager, Lewis Hall, about his memories of life at Collegiate, and Year 8 student Hollie, who gave an account of her experiences during her first year in high school.
Thereafter, visitors were free to explore the school or be given guided tours by our prefects, allowing opportunities to talk with staff and students in each of the faculties about all aspects of school life. Coursework was on display, alongside classroom demonstrations to see and get involved in. The evening's activities included science experiments, English and maths challenges, cookery tasting sessions, sporting activities, a trip back in time to the WWII war rooms, design and technology creation sessions, and much more. By visiting all the displays in school stamps could be collected on the back cover of the programme, earning the lucky collector a Collegiate High School goody bag on departure!
Diverse extra-curricular opportunities play a crucial role in raising aspirations of Collegiate students, enabling them to experience a rounded and enriching education - this was highlighted by the magnificent display in our Sports Hall by Blackpool Gymnastics Club. The PE faculty and Library also demonstrated the wide-ranging interests which are catered for outside of normal learning hours.
All departments reported high levels of interest and look forward to welcoming our new students into Collegiate High School next September.
Headmaster, Dayle Harrison, said, "We were proud to welcome visitors to our community to showcase our students, staff, and learning environments to the full. The atmosphere was vibrant and feedback from parents and year 6 students immensely positive throughout".
Open Evening - 8th October
Collegiate School Open Evening is on Monday 8th October at 6.30pm and in order to prepare for this, students will finish school at 12.30pm on that date. If this causes child care problems for you please do not hesitate to let us know and we can provide somewhere safe for your child to work or use the computers until normal school finishing time.
Choosing a school for your child's education is one of the most important decisions you will make, which is why we would like to offer you the opportunity of visiting Collegiate High School and seeing just what we have to offer both you and your child.
You will have a personal tour of the school, allowing you to experience our fantastic facilities, as well as hear about our success - Collegiate High School is the most improved school in Blackpool with 5 A*-C, A*-C English, and A*-C maths, and is one of the most improved schools in the North West.
Here are a few comments that others have to say about our performance:
"Over the last three years attainment has shown some rapid improvement" Ofsted October 2011
"Behaviour has improved and is now good. Student exclusions have reduced to nil as the school has moved to an internal exclusion policy" October 2011
"Good for behaviour, curriculum, Leadership and Management, pupils feeling safe, Leadership of Learning and Teaching, safeguarding, Equal Opportunities, Community Partnerships, Governance" OfSTED October 2011
"Laura's transition from Junior to Senior school has gone really well. She has already made some new friends and is engaged with her schoolwork so far" Year 8 Parent
"To sum up....the experience of a lifetime" Current Year 8 student
"I have never seen so much technology used effectively in lessons. It was clear as an outsider that the students were learning independently using their iPod touches, breathtaking" BBC Radio Lancashire
100% of parents would recommend Collegiate - OfSTED Parent View 2012
"The year 7 pods are a truly innovative way of learning. We have never seen a curriculum design that matches pupil need as perfectly as this...The pupils that we met were polite, respectful, confident and secure. They visibly enjoy their lessons, want to be there and are very proud of their school" University of Cumbria
Best Results Ever
We are absolutely delighted that Collegiate's results are the best in the school's history. The school has continued the huge improvement of recent years with over half (51%) of all students now gaining 5 or more grades A*-C at GCSE (including English and maths) and with 92% of students gaining 5 or more GCSEs at grades A*-C this year.
This is an improvement of 7% from last year (in the number of students gaining 5+GCSEs including English and maths ) and 11% from last year (in the number of students gaining 5 or more A*-C grades).
Since 2009 results have improved by 27% for the number of students achieving 5+ A*-C including English and maths and by 33% for the number of students with 5 or more GCSEs at grades A*-C - a huge improvement. During this time the school has also moved out of an OfSTED category and received an OfSTED 'Good' judgement in 10 different areas.
Some individual students did exceptionally well this year, with
3 pupils gaining 14 GCSE at grades A*-C
8 pupils gaining 13 GCSE at grades A*-C
14 pupils gaining 12 GCSE at grades A*-C
16 pupils gaining 11 GCSE at grades A*-C
17 pupils gaining 10 GCSE at grades A*-C
These fantastic results, the best ever for Collegiate, are the result of the hard work and dedication of all staff, students and parents / carers.
These are AMAZING RESULTS which will make a real difference to young people's life chances and I would like to take this opportunity to thank everyone involved - thank you - and very well done.
Olympic week results
Year 7 and 8
Winning form for Olympic week
POD A (PSU) Best decorated form room
POD B (LMO) Best presentation
8A (DNI) Best presentation. They produced an interesting and varied section including flags, a PowerPoint and some Russian dancing
8E (SID)Best painting. Recognition for effort for producing a fabulous painting
Winning form for Sports Day
POD A (PSU)
8B (GSC)
Year 9
Winning form for Olympic week
9B (JLU/CIV) Best decorated form room - Mongolia was well rehearsed, involved the whole form, was an interesting balance of country facts and Olympic achievement and included Mongolia throat singing!
9C (RCO/SHO) Runner up for best decorated form room- Cambodia has never won an Olympic medal so they concentrated on the history of the Pol Pot. Kieran Taylor deserves a special mention as he maybe destined for fame as a presenter!!
Winning form for Sports Day
9D (JBA)
Year10
Winning form for Olympic week
10G (SMA) - Best decorated form room
10J (LLE) - best decorated form room
10G (SMA) - Best presentation
10A (LME) - Best presentation 1st place. South Africa, excellent presentation combining sporting achievement with history and geography of the country and creative use of technology.
10C (PCH) - Best presentation 2nd place. France, good presentation with audience participation
10B (KMI/JDJ) - Best presentation 3rd place. England, good presentation with additional dance from Oran and Joey
Winning form for Sports Day
10G (SMA)
Justine Moore to represent Team GB
Former Collegiate High School student, Justine Moore, will be representing Team GB in fencing at the forthcoming Paralympic games in London, and it was an inspirational talk by Paralympian, Shelly Woods, that inspired Justine.
Shelly, who won 1500m silver and 5000m bronze at the Beijing Paralympics in 2008, visited Collegiate to give a talk on her achievements and what it was like to be a paralympic athlete.
Read the full article here that appeared in the summer edition of Your Blackpool, copies of which can be picked up at any Council office.
The staff and students of Collegiate wish Justine the best of luck at the games, and are extremely proud of her achievements and her representing Great Britain.
Sports Day 2012
Our annual Sports Day was held on 3rd July at Stanley Park Athletics Arena. The rain held off for an action packed afternoon with some very impressive performances. Firstly we would like to highlight the achievement of Jake, our very own future Seb Coe, who smashed the Year 10 800m school record by a huge 14 seconds with a seemingly effortless performance. Lucas (Year 7) also impressed in the 800m winning by 35 seconds.
There were nail-biting showdowns in the 100m and 200m sprints, the closest probably between Shahid and Sam of Year 9, Shahid just pipping Sam to the post. Students who achieved impressive sprint doubles were Callum (Year 7), Jordan and Erin (Year 8), Shahid (Year 9) and Lydia (Year 10). Lydia also took the long jump title, 2nd place in the high jump, and 3rd place in the 800m, but was chased all the way in the sprints by Shannon. Sophie had an impressive run of events as well as Beth, both of Year 7.
In the field events Bradley (Year 9) was agonisingly close to claiming another school record in the javelin, winning all three throwing events. Tim also had a respectable attempt at the Year 10 javelin record, taking the victory by 11 metres. Declan (Year 10) just missed the high jump record by one jump, but won with a huge margin all the same.
Congratulations to all the students for their fantastic efforts and inspiring performances which created an exciting and enjoyable afternoon.
A huge thank you must also go to all the staff for their hard work and contributions, making it another successful Sports Day for Collegiate High School.
Collegiate Annual Art Exhibition and Summer Music Concert
On the 5th July the Annual BTEC Art Show opened its doors to the public and invited guests. The work displayed had been created as part of the BTEC Level 2 Extended Certificate, and all the work on show was from our Year 11 leavers (2012).
The event was well attended and coincided with the annual music showcase. Together, these two events really do display the magnificent ability and potential of our expressive arts students.
A big thank you must go to all the staff involved in making this annual event a terrific way of celebrating our pupils' achievements. Thanks must also go to those guests, parents, governors and staff who supported the event and gave our pupils praise and encouragement to continue with their subjects into further education.
Sometimes the pupils don't recognise just how talented they are, and positive comments and interest in their individual work makes all the difference to them.
This is just a sample of some of the impressive artwork on display